About Edinburgh Gutter Cleaning
Edinburgh gutter cleaning are Midlothian high access specialists, providing property maintenance to residents and businesses throughout the Lothians.
We hold  £5 million public liability insurance through axa international for the clients peace of mind and our roofers are fully trained in their fields.
Before we undertake a job, a health and safety risk assessment is carried out.
After removal of all gutter debris we will carry out a gutter efficiency test to ensure rain water flows as it should and there is no blockages in downpipes.
We will then write up and deliver a condition report alongside photos for the clients peace of mind.
 During a gutter cleaning, all debris is removed from the gutters by hand, placed into a bucket and is disposed of after we leave your property.
There will be absolutely NO mess left for you to clean up after we are gone!
Digital images can be taken on request and sent alongside invoice.
 The down spouts will be inspected and cleaned to ensure maximum flow from your entire gutter system.
 We try to work strictly from ladders so the life expectancy of your roof is not compromised and the gutters get done right!
 Customer Service is our number 1 priority. Our work is always guaranteed as is your satisfaction.
 We try and keep our costs down so we can pass these on to our clients,  some competitors spend a fortune on advertising which then gets passed on, to you!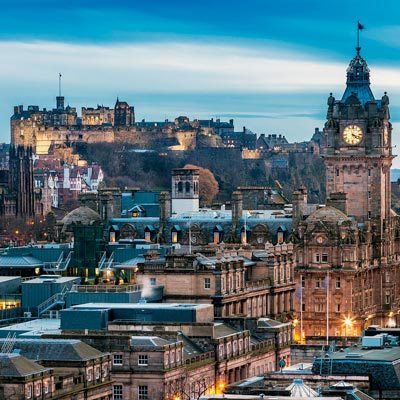 CONTACT US FOR A FREE NO OBLIGATION QUOTE ON
0131 660 3133 or 07717 634956
Our reviews
Cleaned out all the moss and plants that were growing in our rones (guttering) and replaced some crumbled mortar with no fuss and a very reasonable price. I would get them back in without question if there were any other such jobs that needed doing!

I can highly recommend Edinburgh Gutter Cleaning Company. As well as doing a great job, Paul was reliable and very professional. Thank you.

This is the second time I've used Paul, 1st time clearing very full gutters and replacing skipped slates in my old flat, second time clearing a blocked downpipe in my new house. Can't fault Paul both times, would most certainly recommend him.


Came out and sorted issues I had with both front and rear gutters. Job well done and for a good price.

Top job. Punctual, polite and professional. So hard to get gutters cleaned in a top floor flat and you did it very well through attic access and using ropes, taking away ten bags of gunge! We cannot thank you enough.

Paul and one other chap (sorry don't know his name) came round to look at a long-standing problem with a leaking gutter.What they originally thought was going to be a quick fix, turned out to be anything other…Paul was definitely up for the challenge and the best man won!Can he fix it " Yes Paul Can"Would certainly highly recommend and use Edinburgh Gutter Cleaning Company again!Thanks to you both , a fab friendly service.

Paul came round as agreed and him and 1 other fitted netting round our solar panels to keep pigeons out.Excellent service, Excellent price and cleaned up as they went. Great company l highly recommend them.Derek McNaught mbe



Paul Thompson of Edinburgh Gutter Cleaning provided outstanding service not once but twice at two different properties where we had serious water ingress. He rushed across town to help us out and did an excellent temporary roof repair for us. He has also repaired cracked gutters and replaced cracked downpipes. It's not just about cleaning! We will always use him to maintain our gutters and for any other jobs where rope access is required! Highly recommended to everyone and thanks again Paul, you're a superstar!



Paul arrived on time (early in fact!) and got the job done quickly and professionally. Excellent contact by phone/text before the job to arrange date and time. Would definitely recommend to others. Thanks 😊

Paul was very friendly and helpful. The job ended up taking more time than he was probably expecting but he got on and got our downpipe unblocked and draining properly again.Would definitely use him again.

Did a great job and quickly too. Reasonably price and went the extra mile to get things sorted. Would recommend to anyone!


Paul was very professional and efficient at cleaning my gutters and fixing a leak. He was flexible from the quote price to match the actual work which is fantastic.

Very professional services. Paul is very honest and helpful. Reduce price as my gutters was not very dirty. Very recommend. For sure use this services again.Thank you Paul

Paul was very professional in everything he did.He arrived even quicker than he said he would.The fee was organised , and he stuck to it... unlike some companies that always find "extras" and bump the price up.He did a great job and I would certainly recommend him to anyone requiring gutters cleared.Will definitely use him again.

Needed our guttering cleared urgently and Paul came to clear it within a few hours, really friendly and understanding, helped us by sorting the problem quickly and efficiently



Excellent service from Paul who responded to my initial enquiry within 2 hours and repaired our gutters within 5 days despite the heavy rain over the weekend in Edinburgh. Highly recommended.

Excellent service- very fast response when contacted and all work carried out the same day. Great value for money.

I called paul and asked for quote for a job to repair some guttering which he did;work was carried out and I am one happy customer, would definitely recommend this company if you require work done.

Paul repaired the guttering on our whole house. Great job. Friendly and reliable. Excellent value for money. Aftercare provided was exceptional. Would highly recommend.


Great service. Very professional and efficient. Got back and front of the house sorted pretty quickly.

Very impressed by Paul, he identified the issue straight away and done a thorough job of fixing it, he explained what he was doing along the way. The job was less work than originally quoted, Paul was very honest about this and reduced the final balance which I thought was brilliant.

Paul was very quick to provide a fair quote, and turned up to do the job very soon too! Very happy with the service and great price - thanks Paul!

Had a problem with guttering and a downpipe in January that Paul fixed. With the heavy rain today I had an overflow problem and sent Paul an email, he was over and fixed the problem within a hour. Excellent service 👏 👍 👌.

I had the pleasure of an overflowing cast-iron gutter after the recent rain storms around Edinburgh.Paul was quick to respond to my request. He turned up as scheduled (another bad weather day), identified the real issue (moss overload on north side of house) and fixed the problem.The service rates are reasonable and after the latest showers, no waterfall now below the gutters - job done!

Excellent and friendly service from Paul - came very quickly and cleared two blocked down pipes, and installed hedgehog to stop them blocking in the future. Recommended.

Very satisfying and professional company. Great work for very good prices.

Thanks Paul for the repairs to the two gutter joints and speedily obtaining the spare part. Very efficient cleaning and repair service at a fair price.


Excellent service and price for cleaning gutters. Was asked last minute to also do garage gutters and did it no problem. Honest service and reduced price as my gutters weren't too bad.

Great professional service I couldn't recommend this company more. They went above & beyond to fix the problem with my gutter.

Gutters cleaned, very professional service and even gave help and advice with a roofing issue. I wouldn't hesitate to recommend.

Prompt service and thorough gutter cleaning.

On time, very professional, great prices and great quality of work. Even repaired a roof tile while was up there. It's nice to find a company willing to go the extra mile for his customers. 10/10, would definitely recommend.

Excellent work from Paul, great communication and very efficient doing the job. Would highly recommend to anyone.

Edinburgh Gutter Cleaning Company have just unblocked a gutter at my house. He attended the morning after my call and at the time agreed. He also fitted a length of "hedgehog" gutter brush that he had in his van to prevent a future blockage. All in all, I'm very happy with this service and would definitely recommend to others.



No mess left behind on the ground.Great value for tremendous service.HonestPunctualKnowledgeableFriendlyExtremely helpfulI had paul out this morning, he went way over and above to provide me with a great service. He cleaned all my gutters, cleared a blockage in a down pipe and swept my flat roof, as if this wasn't enough, a broken edge tile was identidied - I even got to see a picture, Paul went away and got a new tile, came back and replaced the broken one, from initial arrival to completion, the entire job was done in the hour! All work was way cheaper than I expected. I made a really silly monetary mistake and Paul very kindly corrected this as swiftly as I made it!Thank you very much, I highly reccomend this business.

Excellent service provided by Paul. He cleaned and cleared my blocked guttering without any complaints and advised of a couple of loose/missing tiles and a cracked lintel with no pressure to have him complete any extra work.A nice, friendly and polite guy and well worth the money that was charged for the four in a block property I live in.Two thumbs up - thanks Paul!

Am past doing these jobs myself but find Paul a more than adequate replacement, efficient and pleasant. Got rhones done in Jan and was amazed at the muck that came out of them and from the downpipes.

Yet again, lost count how many times I have used this company, Paul provided an excellent service as was the communication and price. Would highly recommend Paul and this company, can't fault anything about them. Thanks very much.Another job done speedily, professionally and great price AGAIN.Highly recommend this company.

I have a problem; I'm not good at cleaning windows. Well, more exactly I don't have the time. Even MORE exactly, Casa del H has a LOT of windows. Like, take...