Thorough gutter maintenance is essential to keep your property safe from water damage, both inside and out.
Over time gutters can deteriorate, and even with cleaning, they may be too damaged to be properly effective.
When gutters get damaged, unblocking them may not be enough to ensure that they'll continue to work as they should.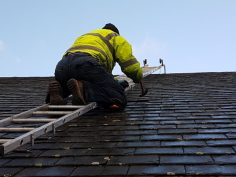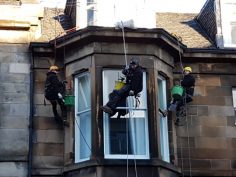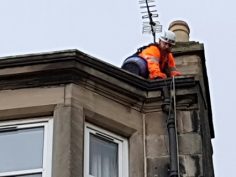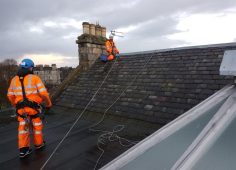 GUTTER CLEANING SERVICE IN EDINBURGH
Gutters won't clean themselves, and if you don't maintain your gutters then you risk long-term damage to your property.
Without regular gutter cleaning and maintenance,  leaves,  dirt and other material can build up in the gutter channel,  blocking the gutter. If this happens, when it rains, water will overflow onto the building.
The results can mean damage to stonework and window frames. You can also end up having damp patches appearing inside your property,  where the water has persistently run down the outside wall.
Water damage can even end up undermining building foundations.
Act now to avoid having to spend a lot more on building repairs or redecoration later.
Call 07717 634956.
Cost Effective Gutter Cleaning in Edinburgh
We'll look after your gutters. Edinburgh Gutter Cleaning Company specialises in gutter cleaning, gutter repair, gutter painting and we install new gutters.
We're efficient and effective, and we keep your costs down, because we know we're providing an essential service to homes and businesses across Edinburgh and Midlothian.
We also specialise in gutter cleaning for tenements – our expertly trained team use rope access for hard to reach areas. You'll save on time and the expense of scaffolding.
Keeping Your Gutters in Peak Condition
Keeping gutters clear and unblocked sometimes isn't enough to ensure they're in peak condition. If your gutters need repairing we can carry out this work. If they're looking a bit worn and scruffy we're happy to paint them for you.
Where gutters have deteriorated to an extent that they're no longer effective we offer a full gutter install service.
We provide cost effective, professional property maintenance – give us a call on 07717 634956 or email edinburghguttercleaningcompany@gmail.com for a quote. We think you'll be happily surprised at our prices.
---
Edinburgh Gutter Cleaning Company has public liability insurance for up to £5million.
We also work in partnership with Stuart Hill Roofing Services, to provide a
comprehensive service to our customers.