Gutter Cleaning in Edinburgh and Midlothian
Thorough gutter cleaning is essential to keep your property safe from water damage, both inside and out.
Hiring a professional gutter cleaner means you don't have to risk climbing up ladders, or finding the time to do this essential piece of building maintenance.
Our gutter cleaning service includes:
Thorough removal of all gutter debris by hand

Checking of all downspouts for drainage problems.

Making sure all joints are secure with no leaks.

Finding out if any gutter repairs are needing done.
We use ladder stabilisers to ensure there's no damage to your gutters while we carry out the work, and we guarantee not to disturb any landscaping when we clean your gutters.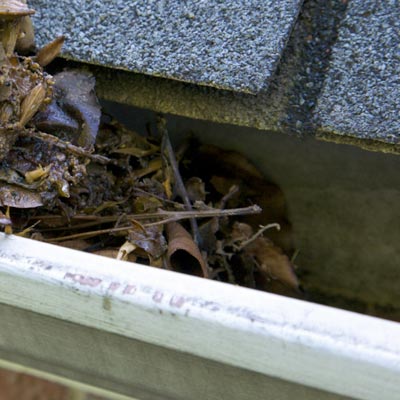 Don't risk neglecting your gutters. Let us look after them for you. Contact us  for a free quotation – we think you'll like our prices.
TENEMENT GUTTER CLEANING
High buildings such as tenement s in Edinburgh can now easily be maintained using rope access roofers. Our rope access operatives are experienced roofers able to carry out free tenement roof surveys, and roof repairs, alongside our tenement gutter cleaning service.
Gone are the days when tenement homeowners in Edinburgh would have to fork out thousands for costly roof repairs. Rope access which has the best safety record in the industry has cut that figure down to the hundreds!
During a gutter clean on a tenement we take images of any roof repairs that require attention and send the images alongside invoice to the clients.  If its's just two or three slates that need replaced then we can do that whilst we are there.
We aim to provide an affordable, reliable tenement roof maintenance service to homeowners and landlords throughout Edinburgh and already offer this service to several property management agencies.
CONTACT US FOR A FREE NO OBLIGATION QUOTE ON 
07717 634956
Arrived when they said they would and got on with the job, no fuss . Would use again

Came on time and did a good job. Neat and tidy no mess left

Great work cleaning tenement gutters via rope access. Will use again.

Paul was great, very quick to look and fix a leak at our house. It took 1hr from making the call to fixing it. We are very pleased. Thank you Paul.

Speedy service. Thank you


Paul made a great job of the gutters. He had to repair part of the guttering and he also helped me with a roof repair which was much appreciated. Great price. Highly recommended!

Swift, efficient, effective. Also courteous, professional, all that good stuff. Thanks!

Paul worked hard to clean high gutters and clogged downspouts. He added hedgehogs to prevent further clogging of the downspouts. He also noticed a loose slate at the highest ridge and took care of it as well.

Always a brilliant service from Paul and Lynne and won't hesitate to use Edinburgh Gutter Cleaning Company in the future.

The guys were really nice and friendly. Helpful and told us what was happening. Gave us a couple of tips to help us in the future. Would recommend to friends as well

Very responsive, arrived on time and Paul was friendly and helpful.

Very speedy and efficient service!

Very pleased with the service. Arrived on time and fixed the leaking gutter joint for a very reasonable price

Paul did a thorough job clearing the gutters and unblocking downpipes. He also did some small repairs for a pre-agreed price and made some recommendations. Due to the weather two visits were required, with no payment requested until completion.

Paul arrived on time to repair my gutters which were out of alignment. He worked non stop for a good 2 hours and did a fabulous job. I would have no hesitation whatsoever of recommending him to anyone. A great service.

Arrived at the arranged time and resolved the issue with our blocked gutters.Good communication and quick response to text messages.

Great service today in clearing and resolving gutter issues.. did exactly what was needed to clear the gutters and add some preventative measures to stop blockages in future (hedgehogs).Would recommend Edinburgh Gutter Cleaning Company to others.

I would definitely recommend this Company, quick response, very professional, trust worthy and honest, fixed my mother n laws gutters, Paul could have just easily said for them to be replaced but managed to repair them so it would not be as expensive, much appreciated thanks again to Paul and Lynne, would give 10 stars if I couldClare

Paul was reliable, honest and straightforward when he came out to deal with our blocked gutters. Access to some parts was tricky but he was still able to get to the gutters and downpipe. I'm planning to get Paul to come back for regular maintenance.

Super efficient and professional. Emailed about an issue on Saturday all sorted by Tuesday.

Excellent ServiceQuoted a very reasonable price to have gutter's and downpipe cleared Paul arrived on time and did a fantastic job very reliable and a nice guy to deal with will definitely use this service again highly recommend.

Prompt professional service for blocked gutters. And excellent communication around the job. Didn't require me to be home.

Very good service and reasonably priced.

Gutter cleaning excellent. Removed dead nest and put barrier in place to stop future nesting. Very nice people to deal with. Would use them again and happy to recommend them .

Paul was very professional and did an excellent job. He brought some good suggestions to a tricky problem.Was also good value. Will definitely use his services again.

Have used Paul for several years - always quick, delivers great service and leaves the job clean and tidy.

Gave a very competitive quote for clearing gutters on top floor flat. Job done quickly and efficiently. Paul kept me updated and all in all very satisfied with the service and professionalism.


Called Paul to sort out a problem with our gutters and downpipes - he arrived on time and sorted the problem cleaning both ends and fixing the problem ensuring that they won't happen againExcellent service happy to recommend them to anyone.Derek

All gutters were cleaned and had to have replacement piece fitted as had lost part of guttering due to high winds. Leaks in old guttering sealed as well and all is good now! Top work 5*

I literally cannot fault any aspect of the service I received from Paul and his team.Paul was quick at responding and answering my questions as well as providing quote and availability to attend the tenement to clear the gutters.They arrived on time and got straight to the task.I received photographs instantly of the roof showing scope of the next stage of the repair work along with accurate quote.Absolutely top class.Sarah

Paul did a great job clearing out our gutters. Was a great price and he arrived exactly when he said he would. Very efficient.Would definitely use him again.

Great job on the front gutters and cleaned the windows on the outside.

I have reached out to Paul before to clean my gutters and also recommended friends ans family to his services previously. As expected, this time Paul came when he said he would again and did another fantastic job cleaning my gutters and fixing part of a pipe that had become rotten and come off at a reasonable price. Thank you Paul.

Friendly and efficient service

Very efficient came when they said did the job thoroughly and evidence was shown off every thing done, great price as well

Great service for gutter clean and repair

The gutters are now clean. Will use their services again when required.

Inspected Gutter cleared it and advised it should be fine for a long time. Also supplied a fix so that shouldn't happen again. Arrived at the time arranged

Absolutely recommend this company! They were responsive, arrived on time and provided a high quality service. They worked on New Year's Eve to help us sort out leaking gutters! Extremely grateful and will definitely use them again!

Paul has been cleaning the guttering at my house for 4 years after being recommended to me by a roped access company. Paul is great to deal with and has always arrived on the appointed day, done a great job and charged what he said he would. He's also nice to deal with. My neighbour has also used his service for 2yrs now, which shows that the best way to grow your business is to do a good job and let your customers do the advertising for you!

Always delighted with the service I have received from Paul over many years. Would highly recommend.

Paul repaired the guttering on our whole house. Great job. Friendly and reliable. Excellent value for money. Aftercare provided was exceptional. Would highly recommend. Kleenex and repaired leaking gutters Paul was here within 1 hour of phoning great. Job and very pleased with work will highly recomend

Great job by paul very reasonable

Called in the afternoon for an estimate gutter repair. Estimate was competitive and Paul was there within the hour and "Job done". No faff. Many thanks

We had our gutters cleaned and we were very happy with the job. Quick response time, friendly service and very tidy job done with absolutely no mess at all. Highly recommended.

Had seen that we had severely choked gutters in the recent heavy rain, so found the Edinburgh Gutter Cleaning Company on line and on Facebook.. I got a very quick and straightforward response and quote from my FB enquiry and the job was completed by lunchtime the next day. Excellent.


We urgently needed our gutters cleaned and had been desperately trying to find a company who could reach the difficult front side of our block of flats. Edinburgh Gutter Cleaning were able to see us first thing in the morning and solve the problem in less than an hour with their highly skilled rope access team. They were very professional and accomodating to our needs. Would highly recommend this company.

I have a problem; I'm not good at cleaning windows. Well, more exactly I don't have the time. Even MORE exactly, Casa del H has a LOT of windows. Like, take...